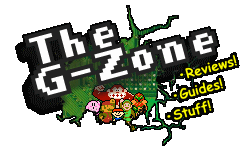 Welcome!
The G-Zone is a website dedicated to game reviews, guides and other fun stuff!

---
12/1/23 - Happy December! Do you like the new site colors? Remember, ctrl+F5 if you can't see them. I've been at my new job all day. It's a part time gig, but the pay is pretty good! The trade-off is that I've been exhausted since like, noon, and I'm going to be out past midnight. At least I got enough of a break to run home and post this update. Phew!
---
11/29/23 - I have israelistyping playing through EarthBound, and he's getting close to the end. Things are heating up as he heads towards the Fire Spring! On another note, I made myself a demo reel! I really hope it gets some attention, as I'm really hurting for an income right now. Did I ever even post about being unemployed on the site? It may have slipped my mind... but it's been about a month and a half, and my savings never recovered after all my car troubles earlier this year, so please, if you know anyone who needs a video editor, voice actor or musician, tell 'em about ol'G-Zone!
---
11/23/23 - Happy Thanksgiving, Zoners! That's what I'm calling G-Zone fans now. Hope you all had good food and good times. Sorry for the lack of posts this month, but I have a new video for those of you who haven't seen it. Check the video tab for it! It's a soda review with TruKuu, but even if you're not interested in the subject matter, you should definitely at least watch the intro—I guarantee you'll enjoy it!
---
11/5/23 - Koozbane's birthday party was yesterday, the day after his birthday. The whole gang gathered at his place and had a good time and, in my case, too much food. His girlfriend (Koozbabe, who else?) surprised him with a Spider-Man theme, complete with a piñata vaguely in the shape of The Lizard, which he ripped apart with his bare hands. I'm home now after spending the night at his and the day at israelistyping's and I'm ready to get my snooze on!
---
10/31/23 - HAPPY HALLOWEEN! Hope it's a spooky good time for everyone reading! I just watched the Blair Witch Project with israelistyping and it was pretty spooky. We're gonna watch either Nightmare on Elm Street or Halloween tonight, too. Enjoy the last of the Halloween logo images and songs before we're back to normal tomorrow!
---
10/28/23 - I'm about to head to TruKuu's Halloween bash. I have quite the bodacious costume, and israelistyping's has shivers crawling on my back! I also bought way too much candy for it. Oops.
---
10/22/23 - We're really in the thick of it now! A few hours ago, I attended a local haunted house where israelistyping was performing as a spooky vampire! It was a lot of fun. We've gotten in two spooky movies together; The Exorcist and It's Grinch Night. Both firsts for me! I also watched The Nightmare Before Christmas by myself and was scolded for watching it too early. Oh, well.
---
10/15/23 - Week 3 of October! I'm excited. Are you excited? I gotta get a pumpkin ASAP before the well runs dry!
---
10/8/23 - I decided to make a new logo image for every week of October leading up to Halloween Last one was Castlevania, and now it's Castlevania II: Simon's Quest. I bet you can guess what it'll be next. Either way, check back next Sunday to see for yourself! Oh, and PS, there's a new surprise when you click the new logo, and you can check the Midi page to download or listen to last week's. Things are getting spooky around here!
---
10/2/23 - Can't see the site makeover yet? Press Ctrl and F5 simultaneously to hard refresh. Then, once you've done that, try clicking the logo for a surprise! It even works on mobile! Earlier today, I finally got the best ending in Castlevania Dracula X for Super Nintendo, and I forgot to say that I beat Arrange Mode in Chronicles a few days ago, too. We're in the thick of it now! There's no stopping the Halloween train!
---
10/1/23 - It's October! The spookiest month of the year! I'm so excited, as you can see! Let's all make the most of this month as we kick off the last stretch of this year with a ghoulish bang!
---
9/22/23 - I'm like 95% over my illness now, which means it's back to work. Then, after work, time for more Castlevania. I've really been hitting it hard! I played through IV already and I'm working on Rondo of Blood and Chronicles. I also have Luigi's Mansion and Resident Evil which I've been wanting to play. It's about that time...
---
9/18/23 - Been sick with covid for a few days. This is somewhere between my second and fourth time having it, and it's a little weird this time. I'll have different symptoms every day. The first day, it was the soreness, tiredness and the headaches. The next day, I was over those, but then came all the cold symptoms, like a runny nose and sore throat. Now, my throat feels better, but a killer stomach ache has had me locked in the bathroom all day and my sense of smell is gone. I guess it picked a good day to do so...? In lighter news, I finished my first Castlevania game of the season (IV) and my copy of Chronicles should be here any day now. Yay!
---
9/17/23 - Tis the season—I updated my favorite video game music list with a few Castlevania titles. Oh yeah, that's the good stuff.
---
9/15/23 - Check out my new review of Kirby Squeak Squad, a childhood favorite of mine! How does it hold up, though? Click through to find out! Oh, by the way, I'm working on The G-Zone's first ever video game review video! I have a feeling it'll be a good while before that's ready, but now you know it's in the oven. Look forward to it! It will hopefully feel a lot like the site does, if that makes sense.
---


Take my buttons with you! Paste these on your site:
Button 1
---
<a href=https://g-zone.neocities.org><img src="https://g-zone.neocities.org/images/button.gif" alt="The G-Zone!!"></a>
Button 2
---
<a href=https://g-zone.neocities.org><img src="https://g-zone.neocities.org/images/button2.gif" alt="The G-Zone!!"></a>